Indonesia model for GAIL floating LNG plan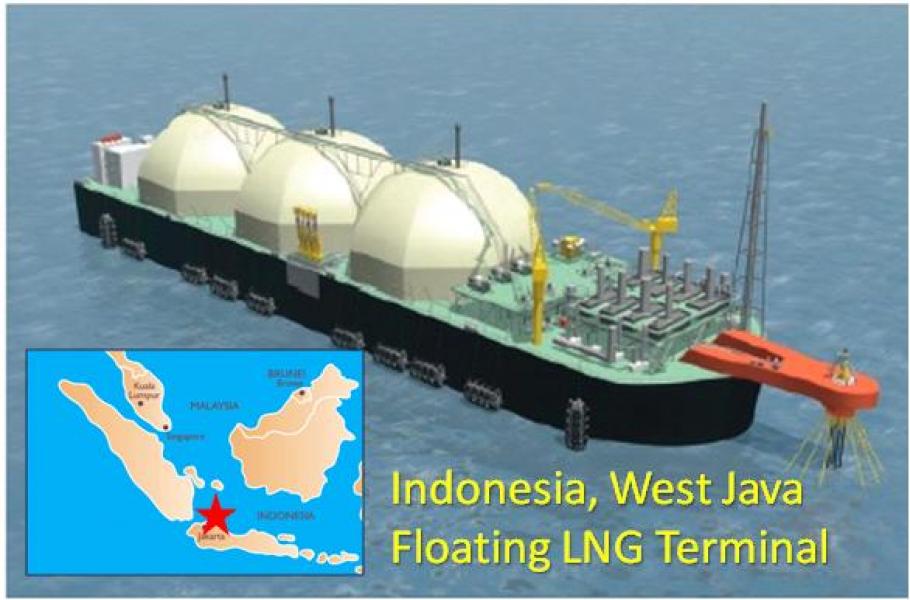 GAIL is eagerly watching the progress of a project by Pertamina of Indonesia to deploy a floating LNG terminal at its West Java asset (left) before deciding whether it too should buy a similar unit, or simply hire one.
"Pertamina first floated a tender to buy a floating LNG terminal and shortlisted three companies," we learn. "But now it has decided to hire a floating terminal.
Hiring is cheaper in these times of austerity." Later this month, most likely on October 12, GAIL is scheduled to hold a meeting with Houston-based Excelerate Energy in Delhi to further "understand" the Floating Storage and Regasification Unit (FSRU) concept.
Last month (September) GAIL met Mitsui OSK Lines and John Fredriksen-owned Golar LNG Energy, both major FSRU players. GAIL wants one FSRU offshore Haldia in West Bengal and another offshore Karaikal in the tiny south Indian state of Puducherry, formerly Pondicherry.
"Both locations offer attractive coastal markets for gas," says a source. Haldia, he adds, is unlikely to get any 'trunk' gas pipeline in the near future and GAIL could supply R-LNG to Kolkata and Durgapur from the Haldia FSRU.
GAIL believes there is enough demand in West Bengal to justify the project, despite competition from CBM produced locally by Great Eastern, Essar or ONGC. A FSRU offshore Karaikal makes sense, we hear, as the city is 600-km south of the nearest competition: IndianOil's proposed Ennore LNG terminal in Tamil Nadu.
GAIL also has an established gas pipeline network in Karaikal, which it can use to supply R-LNG from the FSRU to customers. Whether GAIL hires or buys the FSRUs is a decision it will make after its October 12 meeting with Excelerate and close observation of Pertamina.
But cynics say GAIL's proposal for LNG terminals offshore India will continue to do what the terminals should be doing - float around..
.